You might remember him as "Kevin Obanor, Oral Roberts Wrecking Ball," but now...
Courtesy of Wreck 'Em Red.
Welcome, once again, to the most wonderful time of the year. It's time to reconnect with friends like Kevin Harlan, Bill Raftery, John Calipari, and the fella pictured above.

That's Kevin Obanor, one of the two breakout stars of last year's Oral Roberts team that made an unexpected run to the Sweet 16. But Kevin - along with many of the big names you'll hear called this month - is a familiar face...in a new place.

Due to COVID being such a jerkball to everyone over the past 2 years, the NCAA instituted 2 changes last year to basketball players' eligibility rules:
1. Everyone got an extra year of eligibility to make up for The Year With No Tournament.
2. Players were allowed (at least) one "free transfer," where they could switch schools without having to sit out a year before being eligible to play.
And this past offseason, the transfer portal was hoppin'. Local fans saw this up close, as the entire Minnesota Golden Gophers roster (save for one injured guy and graduate assistant-turned-starting center Eric Curry) transferred out when old coach Richard Pitino headed down to New Mexico.
You'll see the impact of these transfers up and down rosters this March, with former tournament goers like Obanor, UCLA big man Myles Johnson (nee Rutgers), and Auburn's shot blocker extraordinaire Walker Kessler (nee North Carolina) all making the tournament with a different team than they were on last year. You'll also see old friends and former Gophers Marcus Carr (Texas) and Gabe Kalscheur (Iowa State) get in some tournament reps.
But which of these teams and players are set up to make your personal bracket un-bust-able this March? Let's dive in and have some fun.
------------
First, the annual "I am not an actual doctor" disclaimer
. I am not a medical doctor; I don't even have, like, an advanced statistics degree. But one of my favorite activities every year is the updating of the Warehouse, my collection of scores of data points from what is now a decade of NCAA tournaments. Running statistical analyses on this data has uncovered some nuggets of wisdom that may help push you to the top of your bracket pool. Let's dig into what was revealed in this year's model: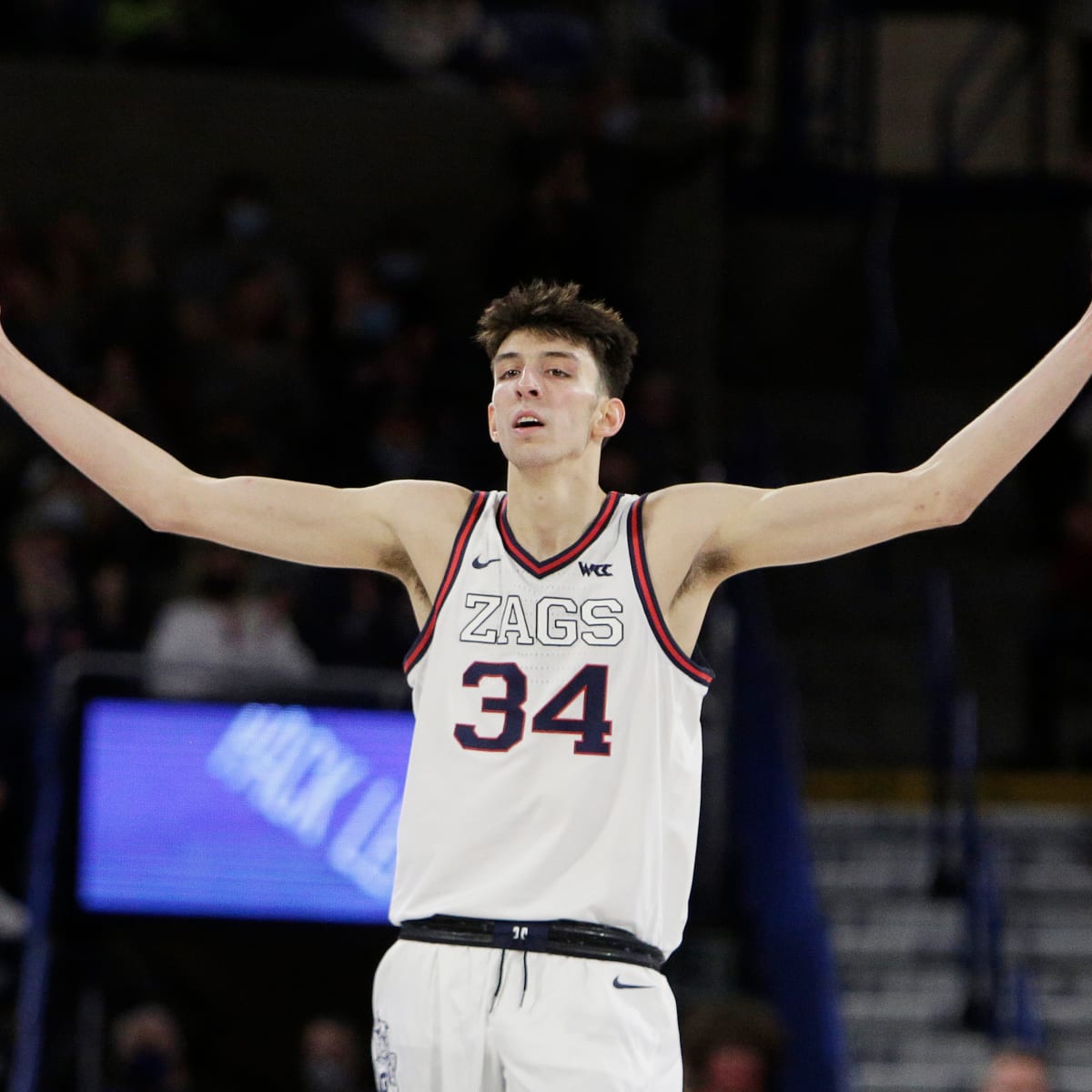 Pictured: Gonzaga starting U Chet Holmgren (the U stands for Unicorn). Not pictured: The ends of Chet's 47-foot long arms. Courtesy of Sports Illustrated.
1. For the 2nd year in a row, it's tough to not just tell you to pick
Gonzaga
to win it all. Even though they're not undefeated coming into the tournament like last year, the analytics at places like kenpom.com show the Zags as America's clear #1 team. In fact, the gap between Gonzaga and the #2-ranked team, Arizona, is bigger than the gap between Arizona and #14-ranked Purdue.
In a typical year, the most popular choice to win a big bracket challenge like ESPN's usually commands about 20% of the total champion selections; so far in 2022, Gonzaga and Arizona are combining to command about 40% of the country's champion picks.
For the 2nd year in a row, weirdly, 3 of Gonzaga's biggest threats in their quadrant are teams they played in the non-conference part of their schedule (losing to Duke and Alabama, and beating Texas Tech). Duke lurks as the 2-seed at the bottom of this bracket, but the Dookies may have peaked a little too early in their season. They looked eminently beatable in the ACC tournament - and the ACC as a conference was much less than its usual formidable self.
2. This year's tourney has a couple peculiarities that we haven't seen in the last decade of March Madnesses
. Often, teams that make the tournament are relatively balanced in their level of offensive and defensive skill. But over the past decade, about 4 teams per year make the field with a profile that shows them with a heavy skew toward offensive prowess/defensive deficiency or vice versa.
This year, there are eight such teams.
The teams that skew toward good O/bad D are: Purdue (3-seed), Ohio State (7), Davidson, Miami (both 10s), and South Dakota State (13).
The bad O/good D teams? LSU (6), San Diego State (8), and Iowa State (10)
What does this skew mean for their prospects in the tourney? Well, the 35 skewed teams in the last 9 tournaments have averaged about 1 tourney win between them. More than half failed to win one game.

Don't pick any of these squads to cut down the nets; only 2 of the 35 have reached the Final 4, and they were both bad O/good D teams (Louisville '12 and the out-of-nowhere South Carolina '17 team; both were defeated in the national semifinals).
3. Another peculiarity of this year's bracket is the strength of the 13 seeds; honestly, Richmond and New Mexico State should be 13s, and Vermont, Chattanooga, and South Dakota State have the analytical strength of teams that usually straddle the 11/12 seed line.
All 3 of these teams have exploitable 4-13 matchups, too! (NOTE: I am not saying all 3 of these 13 seeds will beat their 4-seeded opponents. But chances are higher for these teams than you usually see for 13-seeds!)
Providence was really, really lucky to win several close games this year. They're pretty good at defending the 3 (the 57th-lowest 3pt percentage against in the country - and that's out of ~350 Division I teams), but South Dakota State is absolutely lights out from behind the arc. Providence was only 2-4 in games where teams shot above 39% from 3 against them; South Dakota State has eclipsed that percentage in 10 straight games.
Illinois is a properly seeded 4, but Chattanooga - who made the tournament on a buzzer-beating 30-foot heave by senior guard David Jean-Baptiste to win their conference tourney - has a pair of electric ball handlers and a high-major transfer big man in Silvio da Sousa to slow down Illinois' all-conference center Kofi Cockburn.
Finally, Vermont plays in a weaker conference, but they beat those America East opponents by an average of 30 points, have only lost once since December 7th, and played some high-major opponents (including Providence!) tough in their non-conference schedule. Their 4-seed opponent Arkansas isn't terrible by any means, but they like to run, don't shoot great and are heavily reliant on getting to the free throw line - and Vermont is both the best team in the country at limiting offensive rebounds and top 20 in limiting opponents' free throw attempts.
4. There are significantly less injuries and illnesses worth mentioning than in last year's tournament, where VCU unfortunately had to forfeit their 1st-round game when members of their team tested positive for COVID.
The injuries mentioned below occurred late enough in the season that the advanced analytics haven't yet adjusted to fully "price in" these absences or their potential effect on their teams' journeys through the tournament.


These are worth knowing about and monitoring, as some of the players on this list are key contributors for their teams, and their absences could tip the scales in favor of their opponents if these players can't get cleared in time for their tip-offs.
Here's a list of the injuries you should know about this year, and keep in mind: injuries to point guards and big men often hurt the most in March. (Number denotes team's seed)


1) Arizona - Kerr Kriisa (starting point guard and 4th-leading scorer, 10ppg/5apg) QUESTIONABLE for 1st weekend, recovering from a gnarly ankle injury in Pac-12 tournament.
1) Baylor
- L.J. Cryer (sophomore wing, leading scorer, 13.5ppg, 47% from 3) OUT for at least first 2 rounds with a foot injury that has been slow to heal.
4) Illinois - Jacob Grandison (Starting guard, 10 ppg, 41% from 3) QUESTIONABLE for round 1, hasn't played since March 3rd with a shoulder injury.
5) UConn - Jordan Hawkins (sixth man, 6ppg) QUESTIONABLE for round 1; suffered head injury last week, unsure if he's been cleared to play yet.
7) Michigan State - Tyson Walker (Starting point guard, 8ppg/4apg) QUESTIONABLE for the Spartans' first game(s) sustained an ankle injury early in Michigan State's loss in Big Ten conference semifinals.
9) Creighton - Ryan Nembhard (starting point guard and 4th-leading scorer, 11ppg/4.5apg) OUT for the tourney; he needed surgery to repair a wrist injury in late February.
11) Michigan - DeVante' Jones (starting point guard and 3rd-leading scorer, 10ppg/5apg) OUT for at least the Wolverines' first game against Colorado State, injured his head at practice this week and in concussion protocols.


5. Floor Generals: Wow, that was quite a few tournament teams potentially missing their floor generals, wasn't it? Here's one of my favorites stats that I bring up every year. If you've got a steady
presence as your point guard/primary ball handler, your team may be in for a longer stay at the tourney.

Over the past 9 years, if your team has a "floor general" who averages at least 3.8 assists per game, you win about a half-game more than teams who don't. And 31 of the past 36 Final Four teams (and all 4 last year) have had a floor general toting the rock up the court. So having a capable point guard (or point forward! Let's just go with "point person.") helps both the mid-level seeds get a win or 2, and the top teams achieve long runs.
I usually bring this up to pinpoint which teams
lack
this resource as candidates for early exits, because usually, your 1-, 2- and 3-seeds possess a player that fits this criteria. This year's pack of notable floor general-less teams includes: Purdue,
Villanova
(although your thoughts on their starter Collin Gillespie might make you think they don't belong here)
, Wisconsin,
Texas Tech
, Arkansas, Iowa, Saint Mary's (although Tommy Kuhse has dished out enough assists in his like 14 years as a Gael that he should be grandfathered in), Texas, and Ohio State
.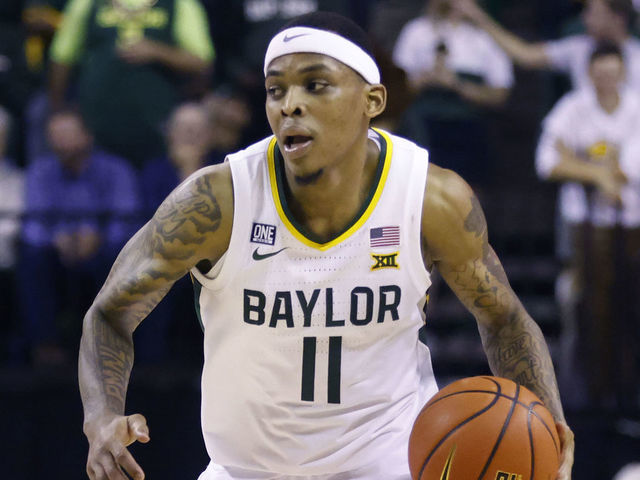 Here's Baylor's floor general - and formerly Arizona's floor general! - James Akinjo.
From The Score.

6. Overseeded/Underseeded: I already pointed out above some discrepancies I see among many of the lower seeds. But don't think I'm planning on leaving out the big boys, too! Because this was one of the selection committee's worst seeding jobs of the past 10 years.

Who got more respect than they deserved? Who got the shaft and faces a harder road because of it? Let's find out!

Underseeded:

I am extremely bummed that Murray State and San Francisco - two of the countries best non-Gonzaga mid-majors - got matched up against each other in the first round. They both deserved much better. Murray State should be about 2 lines higher than their 7-seed; San Fran also deserved a 6 or 7 seed.
Loyola Chicago, perpetually under-ranked,
should be a 5 or 6 seed, but is down on the 10-line. They knocked off 1-seeded Illinois in the 2nd round last year and return everyone except goofy big guy Cameron Krutwig this year.
I'm also hesitant to project any of those trendy 5-12 upsets this year, partially because the 5-seeds are largely better than the 4-seeds! Houston and Iowa should both be 2s or 3s instead of the 5s they received.
The only thing that could have made this year's tourney even better: More Cam Krutwig.
From USA Today.
Overseeded:
Wisconsin. And their half of the Midwest bracket is a bunch of bozos, so they'll probably skate to the Sweet 16, where Auburn might beat them by 30.
Providence, one of the luckiest teams of the last decade, should be like an 8- or 9-seed by the advanced metrics (the selection committee never would have put them there, because their 25-5 record coming from a good conference is actually great. But regression hit them hard in the Big East tournament, when Creighton beat them by 30 without Ryan Nembhard.)
I LOVE Colorado State - their star and Mountain West player of the year David Roddy is one of us! - but they're overseed as a 6. They're more of an 8/9.
USC is another team that had a lot of luck on its side and is probably more of a 10-ish seed.

7. KenPom Top 10s: Since 2012, there have been 17
teams that entered the tournament with top-10 ratings in both offense and defense, per Ken Pomeroy and his awesome analytics site kenpom.com. Fourteen of those 17 teams won at least three games in the tournament.
One of the three teams that didn't was last year's Illinois team, who had to play one of the most egregiously underseeded teams of the last decade in the 2nd round (again, I miss Cam Krutwig). But Gonzaga and Michigan were the other 2 of these teams last year, and they both made the Elite Eight.
This year, I can't help you out with as much of your Elite Eight as I usually can: only
Gonzaga
hits on the double-top 10 criteria
.
Oh yeah, this guy is also back: Drew "Timmy" Timme. I believe he has shaved the facial hair into a more regular mustache for the tournament. From Mid-Major Madness.




8. Nailing the Final Four:
So how exactly do you win a bracket pool? You do 2 things:
A. You nail as much of the Final Four as you can.
B. You gain a small advantage early on by picking the right upsets.
How do you accomplish A? Often, especially in pools that a lot of people enter, the highest expected value for your Bracket Buck is to pick a team to win the title that falls outside of the top few favorites that most of your competitors will likely pick.

This is my usual strategy, and honestly I should have followed it last year when I said "Gonzaga's just too good" and then they got stomped in the final by Baylor! So let's take a look at all the teams I would consider contenders across the bracket. (I do think there's a wide gap between Gonzaga and the other teams in the West region.)


Typically, you're looking for balanced teams who can score a hefty amount of points but who still play D well enough to be roughly top 30 or better in defensive metrics. The teams who best fit this criteria in each of the non-Gonzaga quadrants are:
SOUTH: 1) Arizona, 2) Villanova (just BARELY on the defensive metrics), 3) Tennessee (just BARELY on the offensive metrics), and the team that juuuuuust barely missed joining Gonzaga in the "Elite O and D" club... 5) Houston. The winner of the Sweet 16 Arizona/Houston game wins this bracket.
MIDWEST: 1) Kansas, 2) Auburn, and that's it (this quadrant kind of sucks). 5) Iowa is an offensive juggernaut, but they were last year too, and Luka Garza and the boys didn't play enough D to avoid a 2nd-round upset when they were a 2-seed.

EAST: 1) Baylor (though this is put a little in doubt by Isaiah Livers' absence), 2) Kentucky, 4) UCLA, 6) Texas and 10) San Francisco (criminally underrated!!!)
Khalil Shabazz and Jamaree Bouyea of San Francisco (and the All-Awesome Name Team). From USF Athletics.

9. Early Upsets: You may guess some of these based on what I've said about them or their opponents already. But h
ere are the double-digit seeds that are stronger-than-usual for their seed line this year; whether or not I picked them to steal a game or 2 is entirely match-up dependent:


11) Virginia Tech (I would mention Michigan here too if they weren't dealing with a PG injury on the eve of the tourney)
12) UAB. A really fun pressing team. I would have them beating 2 of the 5-seeds! But not Houston. :(
13) As mentioned earlier, 13s are the new hotness this year. Vermont, Chattanooga, and South Dakota State are all better than your usual 13 seed.
14) Colgate (they put a scare into 3-seed Arkansas last year, and their opponent on the 3-line this year is Wisconsin, a much less daunting task for this heavily 3-pointer dependent Colgate team that plays zero defense.)
15) None. Honestly, 16-seeds Wright State and Georgia State are better than some of the 14s (cough*YALE*cough) but those guys aren't going to beat Arizona or the Zags.

10. Round 1 Best Bets: Perhaps some day in the medium-future, my home state of Minnesota will legalize sports betting, as seems to be the rage across the country lately. So these are just educated guesses made strictly for recreational purposes. Feel free to make these wagers if you plan to be in Vegas or a different gamblin' state in the next couple days, though.

THURSDAY
South Dakota State +2.5 vs Providence
UConn -6 vs New Mexico State
Creighton/San Diego State under 120
Richmond/Iowa over 150.5

FRIDAY
Loyola Chicago pick'em vs Ohio State
Chattanooga +8 vs Illinois
Iowa State/LSU under 127.5
TCU +1 vs Seton Hall
That's all I've got for 2022, friends. Enjoy yourself a heaping helping of Capital One commercials featuring Sam Jackson, Spike Lee, and weirdly Jim Nantz! Happy 1st weekend of March Madness everyone.